Sfânta Fecioară Maria cu Pruncul.
Icoană făcătoare de minuni de la Sfânta Mânăstire Nicula, Cluj. Icoana a fost zugrăvită de preotul Luca din Iclod, în anul 1681
Sainte Vierge Marie avec l'Enfant-Jésus.
Icône faiseuse de miracles du Saint Monastčre Nicula, Cluj, Roumanie. L'icône a été peint par le prętre Luca de Iclod, en 1681
Saint Virgin Marie with the child-Jesus.
Icon maker of miracles of the Saint Monastery Nicula, Cluj, Romania. The icon has been painted by the priest Luca of Iclod, in 1681.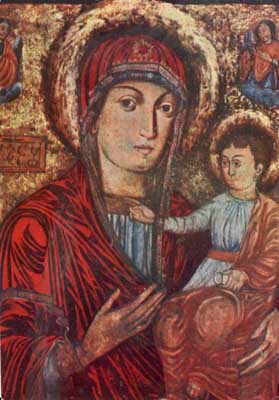 Pour retour clic sur "Back"
webmaster : atvl@colba.net